Hello and welcome to the home of King Con on the Internet.
Follow us on:
INSTAGRAM: @kingconband
X: @kingconslair

Greetings and salutations! (whatever that means) ;)

Just giving you the heads up that we just released a new tune! A cover of the Spin Doctors track "Little Miss Can't Be Wrong", always loved this song. We stayed true to the original, but added some King Con vibes as well. Click the link below to have a listen! Enjoy the music!

Cheers,

Con

Click here!

P.S. Shout out to Michael Parnin & Blacksound & "Bro" Lauser for making this such a fun session!





Hey everyone, well, we finally wrapped up the new tracks! After two years of delays, some due to lockdowns, some self-inflicted ;) the day has arrived.

The tracks are cover songs. Heavy Metal by Sammy Hagar, and the old-time rock staple Good Rockin' Tonight, as popularized by Elvis among others. These songs were tracked during the sessions when we recorded "The Clown" in December of 2019 and early 2020. We finished and released that one, but these got bit by the long arm of covid.

Anyway, I'm glad I didnít let them die on the vine. There was too much life and energy in these tracks to simply walk away. Iím proud of the final result and just hope we have done justice to the originals.

Last but not least, many thanks to Michael Parnin @ Blacksound studios and Dave ďBroĒ Lauser for making this such a fun and memorable experience.

Cheers,

Con




5/5/22
Happy Cinco De Mayo! Just finished up vocals on a couple of cover tunes. Old skool rocker "Good Rockin' Tonight" and the Sammy Hagar Classic "Heavy Metal". Gonna' mix those up asap, should be able to get them out into the ether shortly. Took forever due to lockdowns, etc. but I think the wait will be worth it and you will enjoy them as much as we had a blast cutting them! Heading back into BLACKSOUND studios in July to track something else. Not sure what yet,....stay tuned!!!

1/1/22
Beer Ye, Beer Ye!

HAPPY NEW YEARS. LET'S GO 2022!

Cheers,

Con

6/17/21
Wow, eleven months since my last post. I guess it's time to come out of covid hibernation. 😳🐻 Hope everyone is safe and healthy. Looks like the world is opening back up and slowly returning to "normal"? With that in mind I should get off my ass and make some music! 🎵🎶.

I've got a couple of cover songs I need to finish up that got side tracked due to lockdown, and then I need to reassemble a band to go play live. Time to see who is around and game to play. I'll keep ya posted!

Until then.✌

Cheers,
🍻

Con

7/17/20
🚨🚨🚨
OUR NEW SINGLE "The Clown" HAS DROPPED!!!! You can have a listen @ SPOTIFY, iTunes, Amazon, Deezer, Pandora, Jango, & other music streaming services.

I'm really happy with the way it came out. It was a longer than usual process, considering the
craziness in the world right now, but it felt great to make music again. Hopefully we will be able to play it for you live some day!

Special thanks to David "Bro" Lauser & Michael Parnin for making this such a fun time.

Hope you enjoy the new song!

Cheers,

Con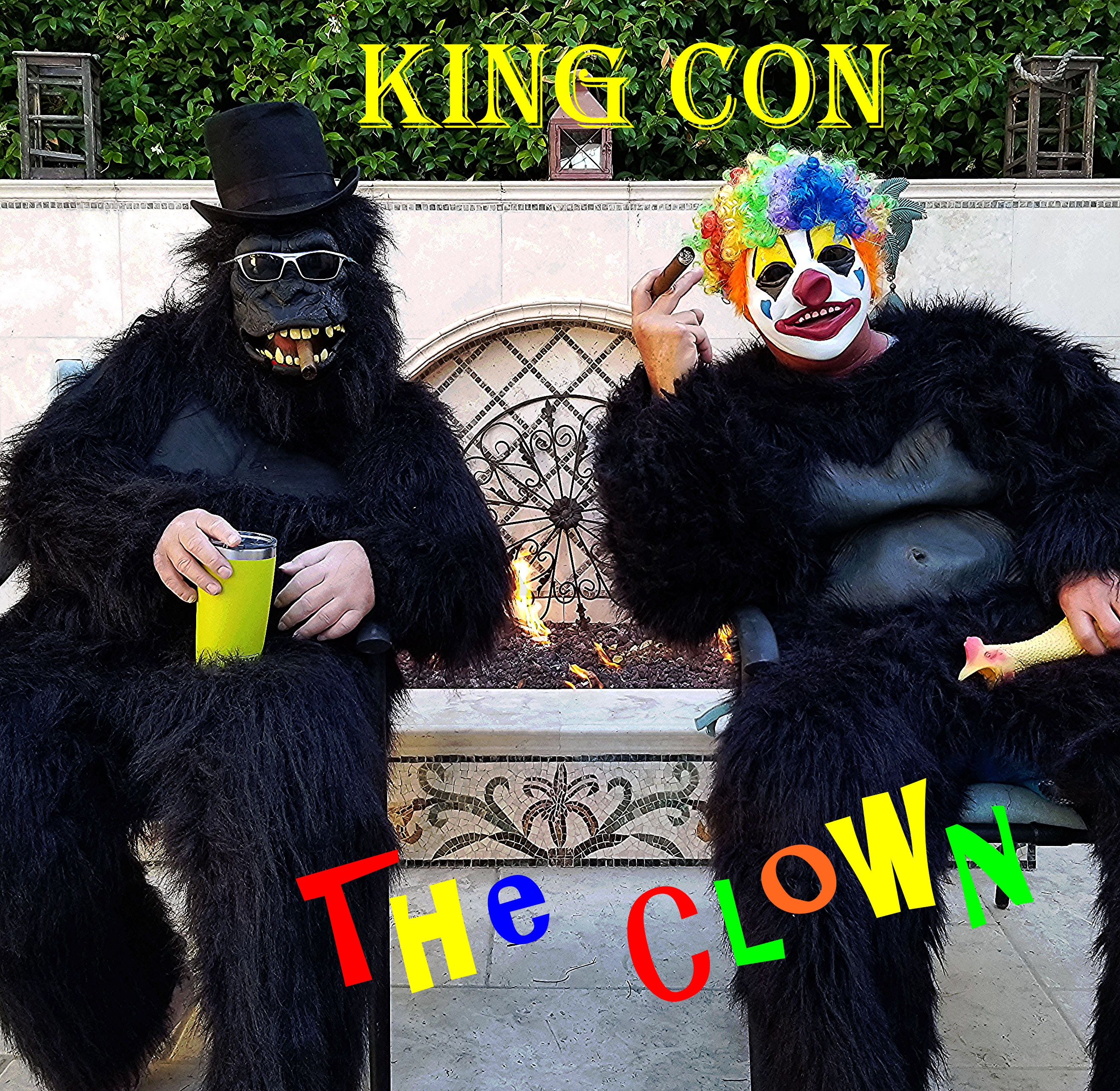 10/10/19
MIRACLE OF ALL MIRACLES! Heading into the recording studio next weekend to cut some tracks.
Three songs:
1. A new one called "The Clown"
2. A cover of the old-skool classic "Good Rockin' Tonight"
3. The quintessential bad ass song "Heavy Metal" by the Red Rocker, Sammy Hagar!

Going to blow it up at BLACKSOUND STUDIOS in Pasadena, CA with my partners in crime Michael Parnin (engineer guru) and drummer extraordinaire and all around good guy David "Bro" Lauser. Can HARDLY FUCKING WAIT!!!

4/9/18
Beer ye, beer ye! 🍺🍻🍺🍻🍺
Our latest musical creation:
"I Hate Every Bone In Your Body,...Except Mine!"
Is now available everywhere digital music is sold. PLEASE SUPPORT INDIE MUSIC!

4/7/17
Just finished recording the Robert Johnson blues classic, "Sweet Home Chicago", guitar and harmonica extravaganza! Available everywhere to stream and download now!

11/1/2016
AVAILABLE NOW! "SONGS YOU GET DRUNK TO - THE ESSENTIAL KING CON". THE definitive collection of our most beloved songs. If you ever wanted a road map to the music and lifestyle of KING CON, look no further. "Songs You Get Drunk To" is your destination. In this musical offering you will find 26 of the best & brightest musical examples of the craziness and debauchery that is KING CON. These tracks are representative of our humble and maniacal beginnings, up to our present state of stunted emotional growth. That said, I'm certain you will find it highly entertaining and provide you with a lifetime of enjoyment, or at least a good reason to get drunk?!

HAPPY NEW YEAR!!!!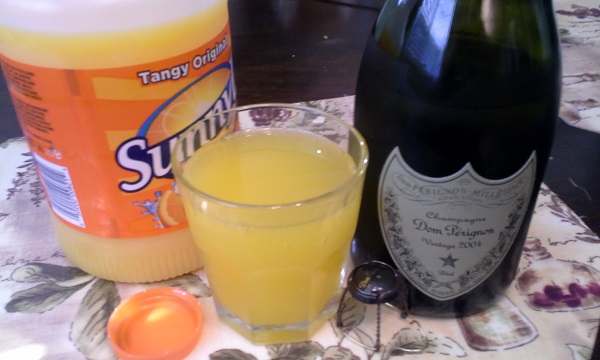 10/31/15
Check out our Halloween classic "Bangin' The Possessed" at CDbaby!




7/1/15
A newly remastered version of our modern classic "Bangin' the Possessed" is now available at iTunes and other electronic distributors! "Bangin' the Possessed", a tender song about a torrid sexual encounter with a wild demonic spirit, is now available @ iTunes, CD Baby and other digital media outlets!

King Con Ė Banginí The Possessed
Review By Bucky Neidermeier

Whether your preference is redrum or a red rub, Banginí The Possessed will fill all of your orifices to the brim. Just donít ask with what. Taking a left turn from the macabre tradition of Alice Cooper, and more recently Timothy Lambesis, King Con leads us to the shaking bed that no Extreme Unction can cure. Is she inhabited by demons or just so horny her prize is about to explode with another prize, the kind you canít bring home without a damn good explanation? Your guess is as good as mine, but just about every male on the planet knows what it means when your date can rotate both her head and her uterus 360 degrees at the same time. Good God, get us a priest, and he had better be a Jesuit or we are all in deep green shit. Check your jis for blood after hearing this one. You never know. 4 stars.


Best song I've heard in a LONG TIME!! Greg Camp/MAIDS OF HONOR
Check out the song and vid at this youtube link: SUPPORT INDIE MUSIC!
Click here!

Fantastic time the other night. The guy is a living legend! Old Guys ROCK!!!!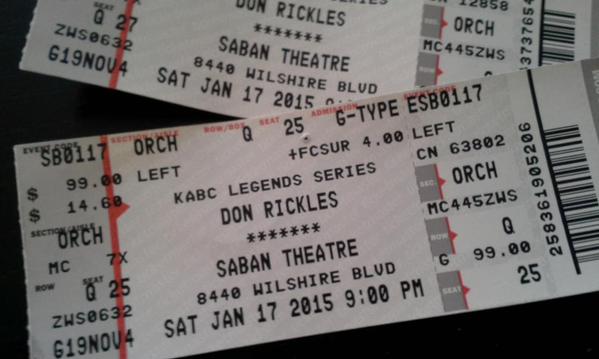 KING CON'S MUSIC IS NOW ON PANDORA RADIO! If you are on Pandora, just type in King Con and you can add us to you station. Or, if you'd rather, just type in King Con Radio and hear King Con music as well as other songs from our favorite artists! Be sure to tell your friends!-Cheers, King Con
Click here!



Sad news to report today. Our friend and band-mate, Monti Rainbolt lost his battle with cancer last weekend. Monti, (our second-chair "Cornelius") was a wonderful soul with a wicked sense of humor and an all around exceptional human being. He will be sorely missed by us all. RIP Monti. See you on the other side my friend.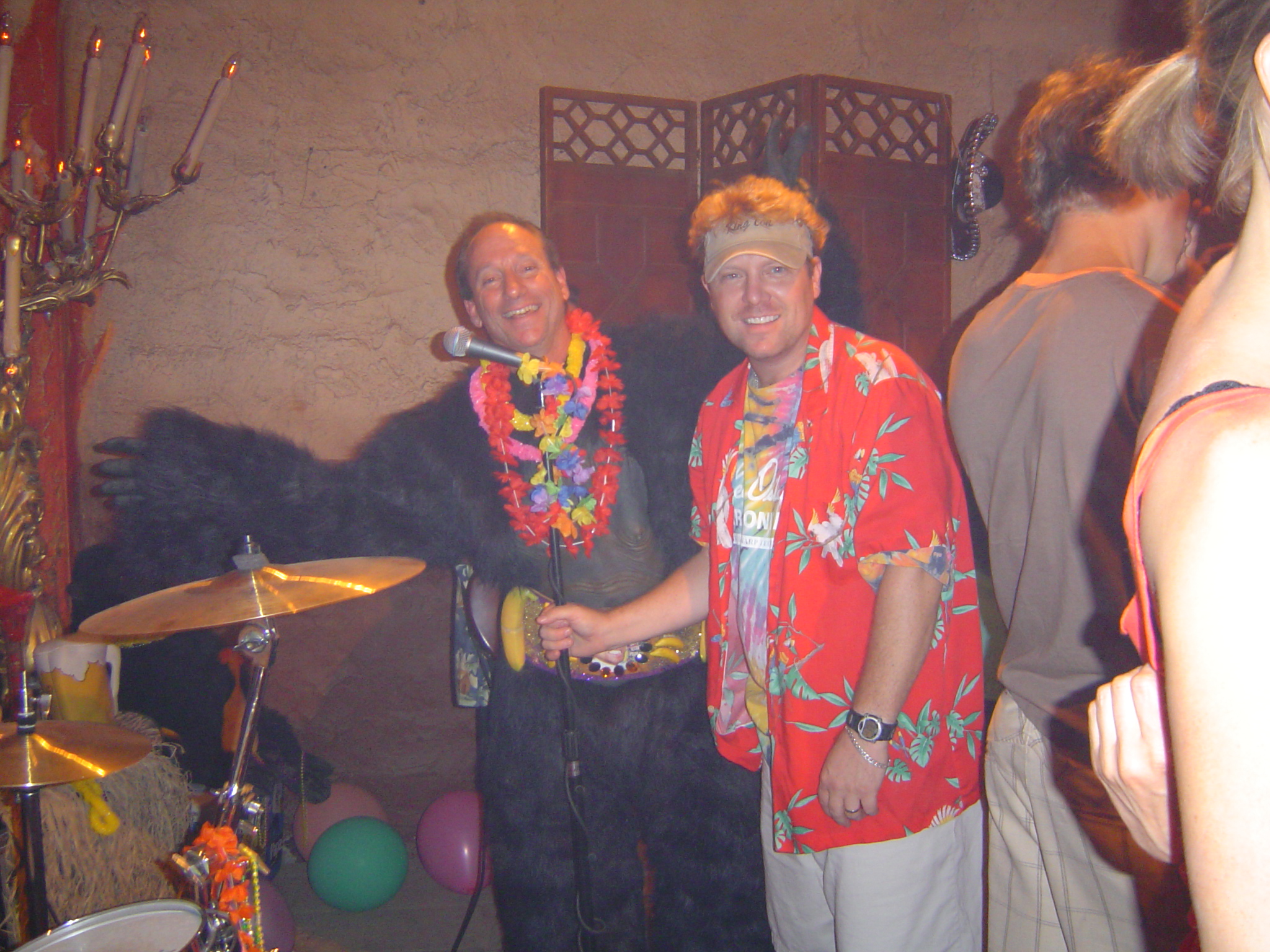 Arnold Palmer & Shirley Temple have nothing on us beverage wise. Introducing the "KING CON' drink, hangover cure deluxe. 2 shots pepto, one shot Captain Morgan's Spiced Rum. Enjoy!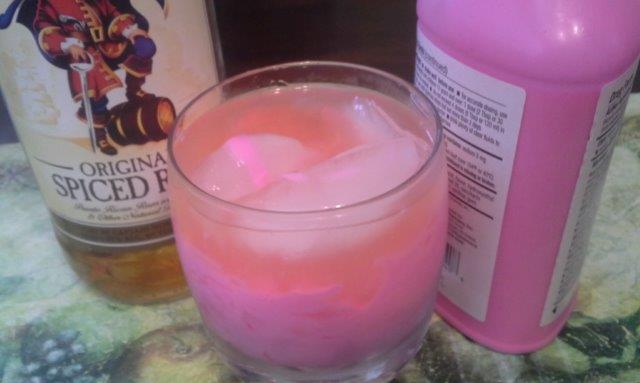 RED PETERS SONG SNATCH
JUST IN TIME FOR HALLOWEEN! Our good pal Red Peters has been kind enough to include our Halloween classic, "Bangin' the Possessed" in his song snatch this week!
Click here!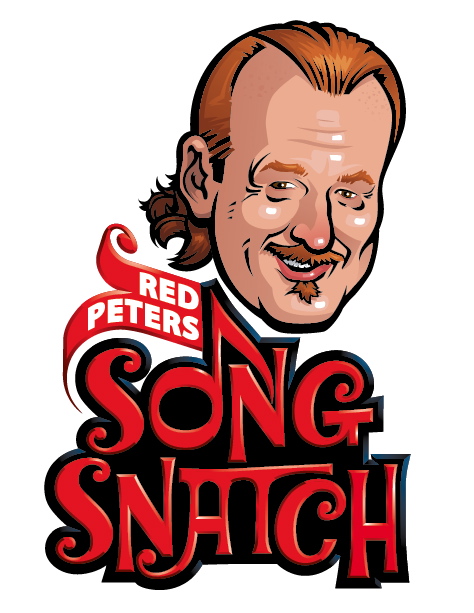 5/27/13
Special thanks to RED PETERS (Sirius/XM Radio Howard Stern Channel 101) for including our music in his Memorial Day Radio Show. Lots of great music to enjoy from famous folks, to simply infamous folks. Be sure to check out Red's original songs too. Good stuff all!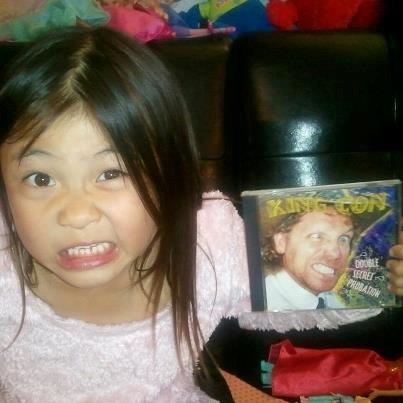 Our newest, biggest (well,...smallest) fan! The King Con lifestyle starts at an early age!!!!

2/14/13
Red Peters' Valentines Show (Sirius/XM Howard Stern channel 101) was a blast! Thanks for having us on RED!

2/1/13
AVAILABLE NOW! Our latest release, CRANKED UP & TANKED UP captures all the chaos, debauchery and kick ass rock and roll that is KING CON. ONE NIGHT, ONE SHOW. A REAL live recording! If you've never been to one of our shows, this CD is the closest thing to it you can experience without actually being there. LIVE IS WHERE WE THRIVE!

1/15/13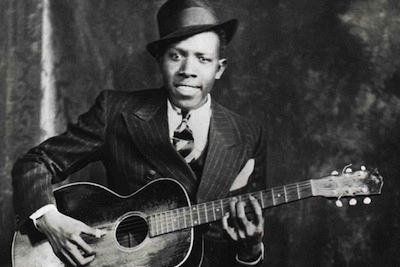 We recently went throught the vault and found a lost recording of a cover tune we did of the blues classic, SWEET HOME CHICAGO. It was recorded for the "Overdue For A Brew" CD, but since it was a cover tune, and it involved lots of paperwork to clear the publishing, we blew it off. Because of our laziness we can't put it on iTunes, or Jango, Pandora, etc.,...so we just put it on youtube. It's a hard rockin' version of Robert Johnson's blues standard. Click the hotlink below to hear it. It will direct you to youtube. It's accompanied by a crazy video that showcases the King Con lifestyle. Enjoy!
Click here!

9/1/12
OKTOBERFEST is here. LIFE IS GOOD!!!

4/27/12
New Adds: KWYO-WY, WZVA-VA , WJFL-GA, WFKX, TN ......and more to come!!!!

3/30/12
CRACK A BREW- #33 Most Added- FMQB!, New adds: WOCO-WI, KSPI-OK, KDMS-AZ, WOLO-VA, CHRM-CANADA, KYTI-WY,
...and more to come!!!!

3/30/11
New video on youtube. Live version of "Ode To Cider" (from our FUBAR CD). This version will appear on our upcoming live CD "Cranked Up & Tanked Up". Click on the pic below to see the video!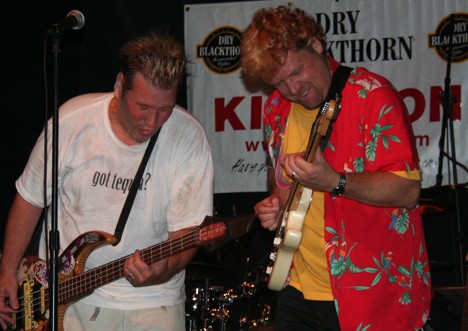 2/20/11
From the "what a blast" file. The other day I had the pleasure of playing 18 holes with football Hall-of-Famer, Jim Brown. Great golfer, legendary athlete, and all around nice guy. A fun time was had by all.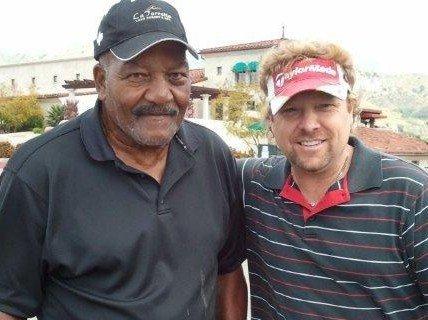 2/18/11
Today is National Drink wine day. (No lie). I suggest you do just that!

1/4/11
Cornelius vacations in Tombstone, AZ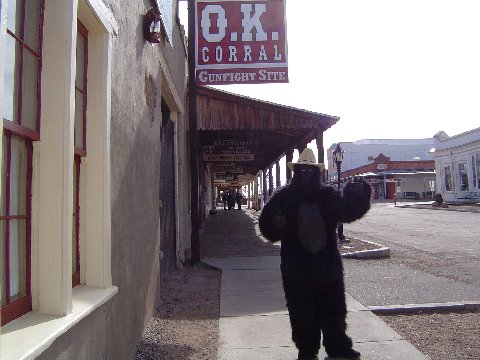 12/22/10
Happy Holidays to you and your families. Have fun and be safe!

11/2/10
The live recording of the "Overdue For A Brew" CD release party turned out really killer. Perhaps a live CD next year?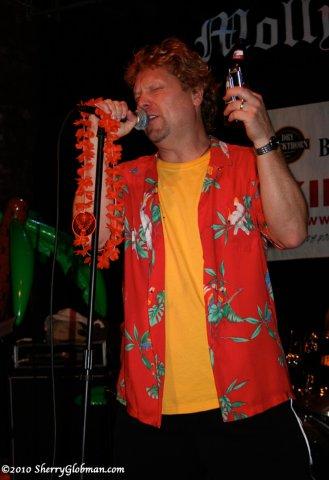 Con concentrating on his buzz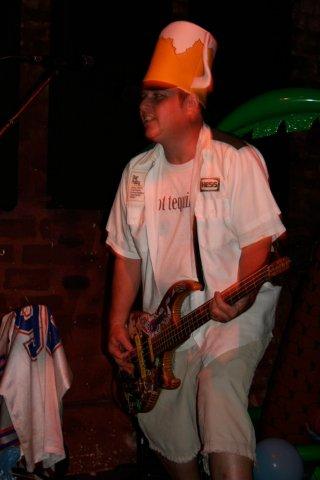 Billy has a great head on his shoulders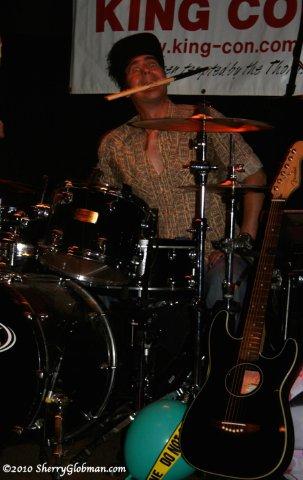 TM finds out we just ran out of beer!

8/9/10
Molly Malone's was a blast! A good time was had by all! Thanks to all who made it out. We'll see ya again next time!

8/7/10
CD Release party for "OVERDUE FOR A BREW"
SATURDAY, AUGUST 7th, 7:30pm 2010. We'll be having a beer-fueled good ol' celebration/inebriation at Molly Malone's, 575 S. Fairfax Ave., Los Angeles, CA 90036. We'll be playing songs off the new CD as well as some of our tasteless classics from Double Secret Probation & FUBAR. As an added bonus, we will be recording the event for a possible live CD to be released at a later date. So come on down, have some fun, and help us record a cd! Click on the pic for link to club info.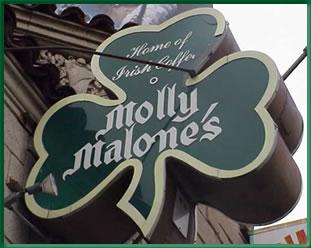 7/05/10
Congrats Joey Chestnut,...Coney Island/World Champion Hot Dog Eating Champ of 2010.

6/15/10
Our friends at Shockwaves Skullsessions were kind enough to ask me to participate in a discussion regarding "do it yourself" marketing, self run labels, indie bands and the state of the industry, etc. The podcast is moderated by legendary Hard Rock/Heavy Metal guru and all around good guy, Bob Nalbandian. Great guests and fun discussion. Click the pic to have a listen.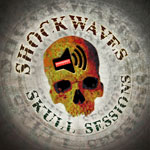 5/19/10
Saw Y&T at Club Brixton in Redondo Beach the other day. They were friggin' smoking! Wild times ensue during the course of the evening. Lose my keys at the beach, have to scale the wall of my house at 2am, jump the balcony and break a window to get inside. Too many Jager shots?

3/29/10
The Stepping Stone live streaming internet radio show has been spinning cuts off the new King Con CD. Very cool program from Canada. Support indie music.

3/22/10
A couple songs from our debut CD, Double Secret Probation have been included in the indie short film, Meridian, from Frosty Palm Studios. A cool time travel flick.

3/20/10
The new KING CON CD "Overdue For A Brew" is now available for download on iTunes and other electronic distributors.

3/8/10
Some sad news to report today. Our longtime friend and engineer, Scot Skidmore passed away recently. He died peacefully in his sleep. He was a wonderful human being, a great friend and a huge part of the King Con sound & legacy. His time on this earth was too short, and we will miss him greatly. R.I.P. Scoty.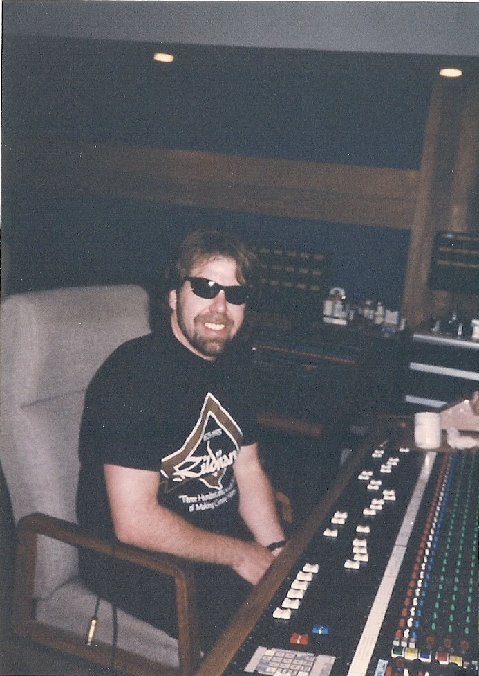 2/2/10
Happy Ground Hog Day! Get hammered!

1/21/10
I know times are tight, but if you possibly can, please give to the DAV. They need our help. God Bless.Click here!




1/14/10
The New King Con CD has arrived! Yeah,...I know. Maybe the title of the CD should have been "Overdue For A New King Con CD"....yes,.....we lag. However, we will release no wine (I mean, CD) before it's time. The brewing and aging process of a King Con CD is complex, a subtle perfection, if you will. The band is very pleased with the result. Couple of fav tracks: "Be Wasted Or The Day Is." A tribute to Deaf Frat Guy/ AKA Maverick, and a reboot of an Old Donnie Iris tune with a big makeover. See if you can spot it. It should provide a lifetime of enjoyment for you, or at least a few laughs and reason to get drunk!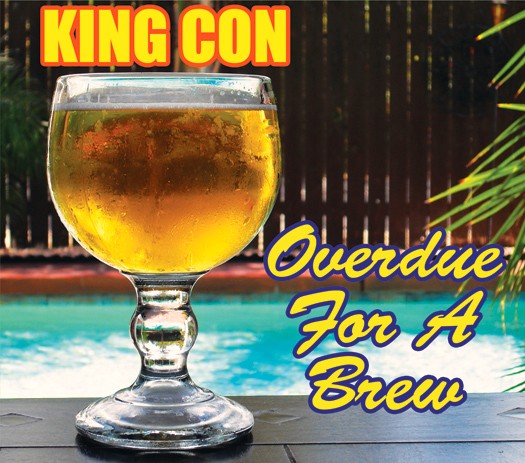 12/06/09
Cabo Wabo was awesome! Great club, great music. Sammy and the Wabos rocked. Special guest appearances by Kenny Chesney, Michael Anthony and Vinnie Paul. Mas tequila consumed!

12/3/09
Heading to Vega$ this weekend for the opening of Sammy Hagar's Cabo Wabo Cantina. Should be a blast!

10/9/09
Saw the "Rat Pack is Back" show last night. WOW. That was some cool shit. The Sinatra guy (Brian Duprey) was amazing. Dead on voice...sheesh. Sammy & Dean were great as well. Highly recommend.

9/27/09
KING CON on the Red Carpet (left) at last year's SAG AWARDS. I was checking out the actress from "House" in the foreground. And the guy on the right was checking me out???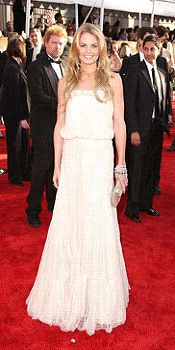 8/11/09
Saw "Heaven & Hell" last night in Los Angeles at the Greek Theater...MAN,..THEY BURNED,...What show!

7/1/09
Well...the last of the inventory for the Drew Estate Kahlua cigar has run out. Sad they disconutinued this fabulous cigar. The world just won't be quite the same. Truly a day of mourning.

6/10/09
An occasional libation enables me to stiffen my resolve.

3/17/09
Happy ST. Patty's Day....did you throw up?

3/16/09
Getting close to mastering the new CD, Overdue For A Brew.

3/15/09
Saw Clint Eastwood's new movie Gran Torino the other night. New Clint quote for the decade "Get off my lawn". The rest of the quote is even better,...but I don't want to spoil it for you. GO SEE THE MOVIE!

2/2/09
The Callaway Celebrity Golf Tourney was a blast! Our group shot an 18 under in a scramble (came in fourth), with help from rookie LPGA sensation Vicky Hurst. (See picture at right). EIF & Callaway raise 1.2 million to fight cancer!!!

12/5/08
75th anniversary of the end of PROHIBITON (the Volsted act). What a great day for America!. Interesting that the Bloody Mary arrived just prior....hmmmmmm,...coincidence? I think not!

12/01/08
The Bloody Mary is 75 years old today. Why not have one?

10/10/08
Dear lush-heads,
We're busy and working hard on the new CD. Mixing it up in November. Should be available some time in 2009 on our site in CD form and digitally for downloads on iTunes. Sorry for the lag time, but we work slow. Hangovers and apathy? No,...attention to detail believe it or not. I don't want to put something out that we are not proud of, and we are proud of this new CD. I don't want to say that we're done, we'll play out and have fun and drink beers with any and all that come out, but I must say,...I tire of this rotten business. If this is the last CD we do...we're going out with a bang! Our debut CD,..."Double Secret Probation" was a raw, crazy, blues-based, beer-soaked party record. Filled with tasteless classics to provide entertainment for the drunk, unwashed, yet educated derilects of the world for another 100 years and beyond. FUBAR was our "Sgt. Peppers" or "Pet Sounds" (if we may be so bold). Staying true to our alcoholic roots, but showing that we aren't just a gag. More thought out and musical, with traces of maturity. However, the new CD "Overdue For A Brew" is a return to the decadence, debauchery, boobetry and stupidity that we embrace on a regular basis. I'm not sure we're done. But if we go out with this one,...we're going out with a BANG!!!!!

Cheers,

King Con

9/16/08
I'm afraid Moe the chimp may no longer be with us. :(

8/12/08
I gotta dry out.

7/30/08
Our old buddy KROQ DJ Tim "poorman" Trenton has been crankin' some King Con during his syndicated tv show..."Poormans Bikini Beach".

7/23/08
Saw Steey Dan last night in LA. They are still the SHIT!

6/14/08
Get hammered....it's flag day!

6/7/08
Well,..we move at a snail's pace,...but believe it or not, a new KING CON CD will be available on iTunes and on our website in January of 2009. Sure,...it's a long time away...but well worth the wait!!!

3/16/08
The return of King Con last Saturday was a blow-out! Much fun and beer was consumed! Played a few off the new cd "Overdue For A Brew" as well.

3/4/08
Hey lush-heads! We're gonna go blow off some steam! King Con will take the stage on Saturday, March 15 at the Universal Bar & Grill in North Hollywood.

We are currently working on our new cd, so we haven't played out in a while. This will be a fun way to kick it back off. We'll play the old tastless standards, and ...yeah...what the hell...probably throw in a few new ones from the new soon to be released cd. Hope to see you there. We miss ya.

2/3/08
Congrats NY GIANTS! Superbowl champs!

1/31/08
Rejoice! Today is National Gorilla Suit Day!

12/18/07
Just finished drinking, (I mean working) on the movie "Flying By", starring Billy Ray Cyrus & Heather Locklear. It was a plum role,...King Con dressed in a rabbit suit, sitting in a bar drinking beer. It was a part I WAS BORN TO PLAY!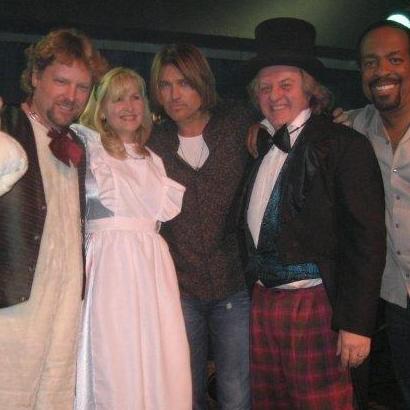 That's what you look like after drinking beer for 9 hours in a rabbit suit. (L-R) King Con, Iris Hampton, Billy Ray Cyrus, John Lappen, Robert Gossett

12/10/07
Fun and games at King-con.com. That's what we live for. No political or depressing world events,...but please allow me this one. On this day,..there are more "gorilla suits" than actual gorillas on the planet. Sadly, their numbers are down to 700. Six billion people, 700 gorillas. We can do better than that. What a travesty to lose this wonderful creature to poachers and deforestation. Did you know it was that bad? I didn't either. Almost extinct. If you can,...please help. Click here!

Thanks for listening...and please have a pleasant & safe holiday.

Cheers,

King Con


8/13/07
Back in the studio this weekend. Slowly pushing along with the new CD. It's coming along nicely,...slow...but nicely.

8/10/07
A Van Halen tour without Michael Anthony?.....hmmmmm...

7/5/07
Happy fourth of July hangover!!!! What was your poison,...beer, margaritas, champagne, wine,....or "D" all of the above? If you answered "D",..no wonder you feel like shit!

5/19/07
Saw the movie "29 Weeks Later" the other day. Not a great movie but there were some interesting developments on the zombie front. Zombies don't just wear old "flood water" pants and lumber around slowly. They wear designer jeans and can run. The times they are a changin!

4/27/07
Get hammered,...it's Arbor Day!

1/27/07
First day of recording for the new, as yet untitled, King Con CD!

1/3/07
I was was recently reminded in an e-mail by a kind soul (Bardy), that I didn't make a resolution of my own. I was so busy spouting off about what everybody else needs to do, I kinda forgot about myself. Quitting drinking would be absurd, so the priority is to finish the new CD. But with that said, we'll try to get out and play this year. It's been way too long. Me do miss it,.......we'll all get together soon.

12/26/06
Heading into the studio Jan 27th 2007, to start recording the new, as yet untitled King Con CD.

9/28/06
William Shatner's CD is really quite great.. I know that sounds weird...he can't sing...but neither do million selling rap artists,..and at least the musicians are good here..........

9/5/06
National Lampoon's Dorm Daze 2: "College at Sea" is being released on DVD today. Checked it out the other night. Not much King Con in there but you can see us in the back of a wild bar scene with lots of booze, chicks and Salsa dancing. I didn't know we played Salsa? I guess we do now? Fun movie though. Lots of T&A,...worth checking out. Don't blink or you might miss our cameo.......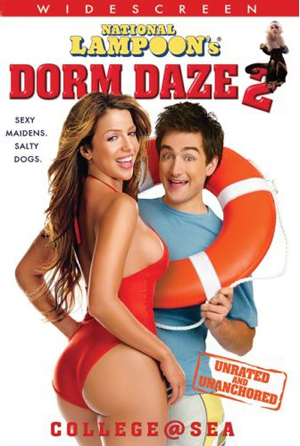 11/23/05
King Con has music featured in the movie.."The Beast From Bray Road". I saw it the other day. It's a crazy werewolf flick. Lots of T&A, gory werewolf attacks......cool. Lots of King Con tunes in there as well.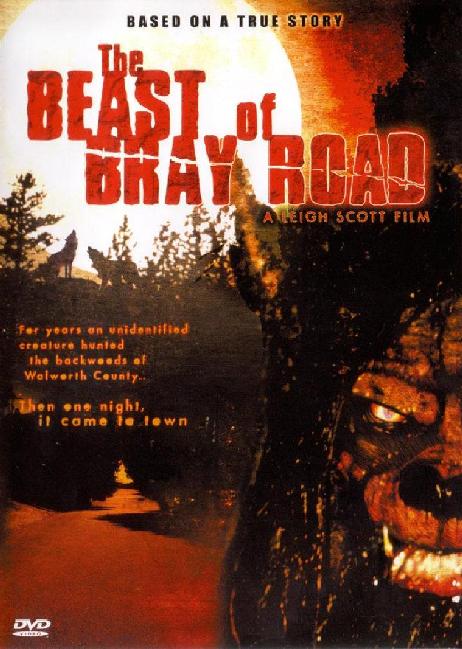 9/20/05
R.I.P. Bob Denver- Goodbye little buddy...

7/23/05
Click here to check out a few of the photos from the set of "Dorm Daze II". Thanks to Patrick Marti for filling in on drums during the filming as our main man T.M. Burr was off helping his dad celebrate his 70th birthday! Happy b-day Mr. Burr senior!

6/27/05
KING CON recently finished shooting a crazy bar scene for the new National Lampoon movie "Dorm Daze 2 - Semester at Sea". The scene is set in a Mexican village where the central charactors end up going into a local bar. Inside King Con is performing some of their tasteless classics including "Lathered Up In Baby Oil, KING CON and Too Drunk To Fuck". While the band plays on with beers in hand (literally), there is much drunkeness and debauchery taking place complete with scantily clad women, intoxicated drunks and other patrons of overall upstanding charactor. I'll see if I can get a link up soon with some of the photos we took on set.

6/21/05
Please take a moment to check out a cool internet radio show out of Louisiana that is currently featuing our stuff. Click here!

5/15/05
KING CON lands two songs in the motion picture "Triple Threat." A fun, surfer, espionage, caper flick. Lots of babes, bikinis, surfing, motorcycles, etc. Coolness!. "Crack A Brew" is featured in the movie. Watch for it! There is a CD soundtrack as well with lots of cool music. Click the pic to find out more.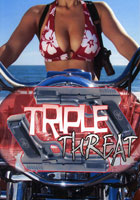 2/10/05
FUBAR, the highly anticipated follow up release to KING CON'S critically acclaimed debut CD, "Double Secret Probation" has arrived. FUBAR contains the same spirit and enthusiasm in which KING CON's first CD was recorded. A combination of drinking, partying and hangover songs, seasoned with tales of debauchery, excess and bad judgement. If you dug the first CD, you'll be sure to love this one too! Check out the latest review from Shockwaves Magazine.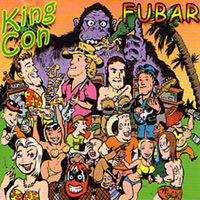 KING CON
FUBAR
Dental Records

FUBAR displays everything rock'n'roll is supposed to be-Fun! King Con are the masters of alcohol-fueled good 'ole blues-based hard-rockin' drollery! This So-Cal party-band fuses the blues-based guitar-jammin' sounds of AC/DC, Pat Travers, and George Thorogood with the folky island stylings of Jimmy Buffet. Unlike other rock bands that abstract simple blues-based party-rock, King Con are indeed skilled scholars both musically and lyrically. This band certainly has the musicianship to back up their absurd and witty sense of party humor. This band is all about having a good time and their songs exude just that. Vocalist/guitarist King Con shines on guitar as well as harmonica and his dipsomaniacal [Ed. Note: I just came across this term using my Thesaurus, but thanks to this review, I'm definitely planning to use this word more often] vocals suit the music perfectly. Second guitarist Leathan Lund provides brilliant blues-licks and tasteful country-styled acoustic work displayed on songs like "Good Ol' What's Her Name" and the rhythm section of Billy Pattan (bass) and T.M. Burr (drums) provide the solid backbone and ultimate reggae groove on tracks like "It's A Guy Thing" and "Your Lovin' Squeaks." The opening theme song "King Con" gets the party going with its catchy sing-along chorus and the title-track "FUBAR" (I think we all know what that means) keeps the party slammin'. Other tracks such as the instrumental "Ode to Cider" and "Scratch Scratch Scratch" prove rock' n' roll boogie is alive and well. All in all, whether or not this music is your style, there's no denying that King Con's uplifting music will put a smile on your face and get you in the party mood. For more information on King Con or to purchase their CD, check out the band's website at: www.king-con.com.

-Bob Nalbandian
Hard Radio/Shockwaves
www.hardradio.com

1/10/05
Operator created problem/technically inept. Haven't logged on to the computer in 6 years.

1/25/1999
The debut CD Double Secret Probation arrives from the maufacturer.


King Con jams with Jimmy Buffett (click image to see video)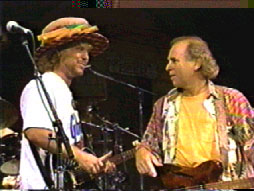 Billy the bass player & King Con at Oktoberfest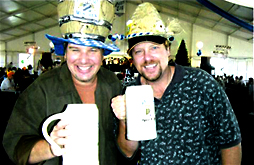 King Con (left) with Andy Richter and friends at the Callaway celebrity golf tournament, Riviera Country Club